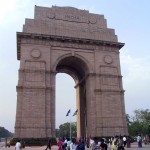 It took 30 hours to arrive in New Delhi from San Diego, California, on American Airlines. I met Gail's incoming flight from Washington DC and we shared a meal at the Macaroni Grill before boarding the 777 for a flight which was to last 14 hours. To celebrate the 5th anniversary of flights from Chicago to New Delhi, AA was offering the passengers cake and souvenirs in the waiting lounge. When we landed at the gleaming new airport, we laughed when we saw the set-up after immigration: in order to retrieve our bags, we would first have to buy something at duty free shops! Such is the importance of commerce to India.
Smoky air greeted us, and a guide with a General Tours sign was smiling to welcome us. Flower necklaces made of tied marigolds were given to us. The traffic was dense, chaotic, noisy with horns, but it flowed. Security here is more intense than at El Al airlines in Israel! We pulled up to the Meridien Hotel, and our car was searched, trunk and under the hood. We had to pass through security to get into the hotel. Our bags were put through a scanner, we were patted down, and then handed back our stuff. So it is every time we come back to the hotel.
The Meridien Hotel, although constructed 25 years ago, has the feel of a 1960's disco, with vast marble spaces, candles, mirrors, bizarre structural pillars, lots of retro chairs, and patterned rugs in burgundy and black. Our room is large and clean, with beige comforters, hardwood floors, modern lighting, and gorgeous gold and charcoal tiles in the beautiful bathroom.
After a short night's sleep, we explored the excellent neighborhood around the "hub" of Delhi, the circle known as Connaught Place. As we had been told that the government emporium north on Janpath was closed down for celebration of the end of Ramadan, Eid, and that there were demonstrations in the area, instead, we walked to another recommended shopping center. Monkeys roamed the broken sidewalks, and traffic was, simply, incredible. We drove through the diplomatic quarter, by the governmental ministries, and were surprised at Delhi's wide avenues and gorgeous trees.
At the emporium, we were lucky to be treated to real Indian hospitality and skilled salesmanship, including the drinking of cardamom tea, and carpet shopping. The young law student, Omar, explained that the complex brought in wares from 288 families from the Kashmir Valley, out of the 3,000 families working there. The quality and range of goods was excellent, and there was no pressure (!) We negotiated on one small, glowing red carpet made of soft yak wool, and another of a subtle blue. The deal was clinched at 50% off original price, plus their arranging taxi fare to the Meridien. Another low-key salesperson, Dinesh, showed us pashmina shawls, a sari for Gail, and assorted scarves at reasonable prices. We couldn't have made it home without the tuk-tuk wildly (but safely) delivering us to the hotel. We met the owner of the complex, a medical doctor, and told him how happy we were with the experience.
Suddenly, our jet lag began to set in. We spent the afternoon snacking on peanut butter, with cool gel packs on our heads, trying to rest. Thursday we will tour the Red Fort, Delhi's monuments and the Old City. It started to sprinkle outside. Down below our window, we could see what looked like a factory. Upon closer inspection, it became clear that the hotel was using 11 giant open boilers to purify the hotel's water supply.
But it was a good day, and we got a good measure of how it is to interact with the Indian people. Today, we made it successfully on our own. But we notice how unfriendly the city is for walking, and we are eager to have a driver and guide. Touts are everywhere, and we booked a tour so that we wouldn't have to constantly fend them off. We'll be the only ones on this tour!
Claudia and Gail