As is often true in Romania, many of the sights have dramatic stories that are clothed in myth.  During our visit in Transylvania in September 2010 we were taken to the town of Cisnadie to see the fortified church, which may date back to the 12th century.  Cisnadie was also known as Heltau by the Saxons, and the town itself is now in effect a suburb of Sibiu and site for construction of beautiful second homes in the countryside.  (Apparently Prince Charles picked up a nice little estate somewhere in the area.)  The history includes destruction by the Ottomans, plagues, a major textile factory and guild, and deportations by the Nazis during World War II.  In this view (above) of the enclosed courtyard, you can see an exhibition of photos of the elderly — we were told that these were grandmas and grandpas left behind by recent immigrations of younger people to the west, mainly for jobs.  Many of the elderly are now alone and have no one to care for them.  The courtyard already has a haunted feeling, and it seemed fitting to remember these still living souls who are suffering from years of political upheavals in the region.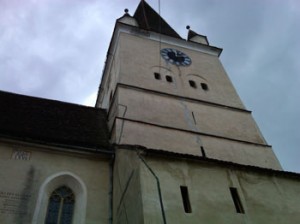 The guide paused by this church tower to tell us the story of its lightning rod.  It was introduced in the late 1700s and was first considered unnecessary and possibly sacrilegious until lightning actually struck in 1797, and then the church elders decided it was wise to keep it after all.
The most exotic story revolved around the buried treasure of Heltau, which was hidden for hundreds of years in a secret chamber under the church.  We were told that only one person in town ever knew where the treasure was buried, and that he or she would tell someone else before they died.  Our guide said this tradition was carried on successfully until the Nazis arrived, and then the treasure was removed for safekeeping at the Brukenthal museum in Sibiu, where it still can be viewed.  ( We had to wonder: was it really safer in a museum?)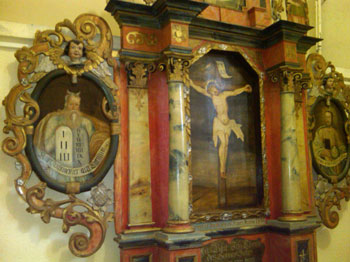 This last image of an altar relic was probably taken at Heltau, and I include it because of its beauty, but also because of the Moses with horns (left).  The last one I saw was the Michelangelo statue in Rome, and they always make me chuckle.