The charm of a large city lies in its many neighborhoods that are formed by the cultural influences of a unique group of people. In Little Italy, San Diego, CA this little neighborhood was crafted over the years by fishermen and their families, restaurateurs, grocers and bakers from Italy. Of late, the addition of art, festivals and general tourism have brought a resurgence of energy, money and even more local color into this retro/modern area and brought about a charming revitalization.
Here's the approach into Little Italy from India Street of all things! The signage has been the neighborhood landmark.
The corners are festooned with lovely 'wooden' soldiers playing a variety of musical instruments in wine barrels filled with red poinsettias.
Windows are dressed for Christmas and storefronts look inviting. The general atmosphere is warm and cheerful. Red "Buon Natale" flags are atop the lampposts and line the blue sky. White, sparkly snowflakes dance nearby.
For a quick and amazing bite of pizza by the slice, visit Landini's Pizzeria. Lightly browned thin crusts, divine red sauce, delicious toppings and heated to piping hot perfection before being served with Peroni draft beer to wash it all down!
The buildings in the area have been modernized and new, European-style, condo-mixed use buildings have popped up in recent years. Many are full, many still looking for buyers and lessors in the depressed housing market.
Walking down India Street in Little Italy is like walking in an outdoor museum. The utility boxes on the streets have been painted by local artists with Italian motifs. The buildings' walls have large paintings adorning them and it becomes a visual treasure hunt looking around for other pieces.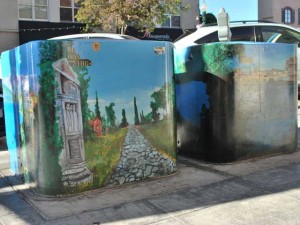 It's a lovely place to spend a couple hours before hoping over to the airport which is just a couple minutes away by taxi. I do hope to return at nighttime to see the lights and mood of the people in cafes as they get into the Holiday spirit!